Cape Hake Fillets & Portions

• All natural Cape Hake Fillets & Portions
• Premium quality
• Mild flavor and firm, flaky texture
• Precise size grading
• Boneless
• Skinless and Skin On options
• 'Taco Cuts' available
• Wild-caught Product of South Africa and Namibia
| Code | Product | Case |
| --- | --- | --- |
| 97574 | Cape Hake, 4-6 oz. Natural Fillets, Boneless, Deepskinned, Shatterpack, South Africa | 2/ 15 lb |
| 97575 | Cape Hake, 6-8 oz. Natural Fillets, Boneless, Deepskinned, Shatterpack, South Africa | 2/ 15 lb |
| 96230 | Cape Hake, 8-14 oz. Natural Fillets, Boneless, Deepskinned, Shatterpack, South Africa | 2/ 15 lb |
| 1680 | Cape Hake, 3-5 oz. Natural Fillets, Deepskinned, Boneless, IQF, Namibia | 1/ 10 lb |
| 1681 | Cape Hake, 5-7 oz. Natural Fillets, Deepskinned, Boneless, IQF, Namibia | 1/ 10 lb |
| 1682 | Cape Hake, 7-9 oz. Natural Fillets, Deepskinned, Boneless, IQF, Namibia | 1/ 10 lb |
| 1683 | Cape Hake, 1.75-2 oz. Natural Fillet Portions (Taco Cuts), Deepskinned, Boneless, IQF, Namibia | 5/ 2 lb |
| 1684 | Cape Hake, 4 oz. Moulded Portions, Deepskinned, Boneless, IQF, Namibia | 1/ 10 lb |
| 1687 | Cape Hake, 10-12 oz. Natural Fillets, Skin On, Boneless, IQF, Namibia | 1/ 10 lb |
| 1688 | Cape Hake, 12-14 oz. Natural Fillets, Skin On, Boneless, IQF, Namibia | 1/ 10 lb |
PREPARATION

Cape Hake responds well to any cooking style: fry, bake, broil, grill, steam or sauté.
The 1.75-2 oz. Portions are ideal for fish tacos!
SUSTAINABILITY

Our Cape Hake from South Africa is sourced from a fishery that has been independently certified to the Marine Stewardship Council's standards for a well-managed and sustainable fishery.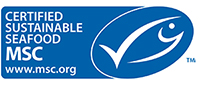 PanaPesca
and Sustainability
PanaPesca USA has made a commitment to ensuring our
products are procured in an environmentally conscious,
socially responsible, safe, and sustainable way.