Clams - In Shell

• All natural Clams
• Premium quality
• Vacuum packed to retain natural juice and fresh taste
• Sand free – clams are purged before packing
• 100% yield – no broken or unusable clams to discard
• Fully cooked, simply reheat from the frozen sate
• Wild-caught and farm-raised options
• Product of China, Thailand, or Vietnam
| Code | Product | Case |
| --- | --- | --- |
| 9011 | Clams, In Shell, 11-16 ct/lb, Fully Cooked, Vacpack Frozen, Asia | 10/ 1 lb |
| 9011WC | Clams, In Shell, 11-16 ct/lb, Fully Cooked, Vacpack Frozen, MSC Certified, Vietnam | 10/ 1 lb |
| 9017 | Clams, In Shell, 17-22 ct/lb, Fully Cooked, Vacpack Frozen, Asia | 10/ 1 lb |
| 9017WC | Clams, In Shell, 17-22 ct/lb, Fully Cooked, Vacpack Frozen, MSC Certified, Vietnam | 10/ 1 lb |
| 9022 | Clams, In Shell, 17-22 ct/lb, Fully Cooked, IQF, Asia | 2/ 5 lb |
PREPARATION

Vacuum packed clams are easy to use and delicious!
The live clams are cleaned, graded and vacuum packed. Next, the clams are cooked inside the bag then quick frozen. All the natural juice is retained in the bag with the clams.
Simply reheat the clams directly from the frozen state. Boil or steam inside the bag, or steam or sauté out of the bag. Reheat clams for approximately 8-10 minutes and they will open just as if they had been prepared from the fresh state. Keep frozen until use.
SUSTAINABILITY

Wild and farm-raised Clams are rated as a 'Best Choice' for sustainable seafood by the Monterey Bay Seafood Watch for their well-managed production process and low impact on surrounding ecosystems.
Wild Clams (9011WC and 9017WC) are sourced from a fishery that has been independently certified to the Marine Stewardship Council's standards for a well-managed and sustainable fishery.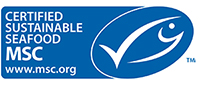 PanaPesca
and Sustainability
PanaPesca USA has made a commitment to ensuring our
products are procured in an environmentally conscious,
socially responsible, safe, and sustainable way.
Sign up for our newsletter!
New Products, Special Offerings & More!